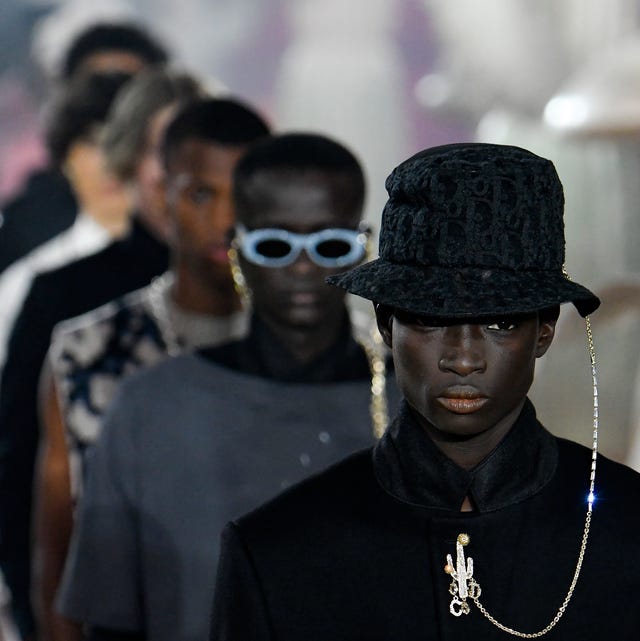 Victor Virgile
Ah, menswear month. Finally over. And though it's been an intermittent mix of video, mixed media and actual, real life fashion shows (people staring at phones on white wooden rows – remember all that?), the stuff that matters the most – the clothes – were as impactful as ever. And the clothes, there were many.
Not too many, but enough to get lost in it all. So, in a bid to provide Some Clarity, the Esquire style team has handpicked their highlights from the in-between S/S '22 menswear season.
Advertisement – Continue Reading Below
1
Giorgio Armani
"Taking it back to where it all began" (Milan's Via Borgonuovo), Giorgio Armani has gone back to basics for Spring '22. It is a supremely Armanian Armani collection, equipped with short, soft double breast tailoring, Nehru collars and perfectly cut pleated pants. But there are plenty of exciting developments, too, such as the Giorgio take on the Mary Jane buckle up shoe. The rubber stamping of a trend that looks set to go global.
Charlie Teasdale, Style Director
2
Bethany Williams
Native designer Bethany Williams deals with serious subject matter. She's a longstanding partner of London's Magpie Project: a charity that supports families without access to legal funds. She's a keen recycler too, focusing on sustainable design solutions for an industry that really isn't all that good at it.
But despite that, Williams has long approached the making of clothes with a sense of levity. They're fun to look at. They're even more fun to wear. And in S/S '22's offering, it was a new sort of grown-up fun with an oil spill of colour and collage to sharp, wearable shapes. Seriously good stuff.
Murray Clark, Digital Style Editor
3
A-Cold-Wall*
Samuel Ross is a designer who, typically, works best with angles and an absence of colour. His clothes, with their asymmetrical zips, jagged patterns and utilitarian overtones are often high performance, architectural, sculptural, sepulchral, conceptual. For this season, though, there's a lot of colour! Slime green, high-vis orange and pastel-ish yellow run throughout. Here is an example of a more vibrant Ross, the t-shirt printed with a Le Corbusier detail is a clever and on-brand take on graphic streetwear, paired with tech fabrics and summer colour. Architectural, but also… fun!
Finlay Renwick, Deputy Style Editor
4
Erdem
One of the darlings of womenswear (a former British Fashion Council designer of the year, amongst other glittering successes), there has always been a hope that Erdem Moralioglu might translate his sensibilities into men's clothes, and now he has. Truth be told, I wasn't expecting to like it quite as much as I do. It's delicate and playful, but also subdued and eminently wearable, which is a real plus when it comes to clothes.
CT
5
Fendi
If last season's Fendi show was the pyjama party, the most recent outing was the actual party. But rather than tune into a familiar strain of 2am dark lit, smoking indoors party (y'know the sort: sexy, rippling shirts, hard won summer bods etc), creative director Silvia Venturini Fendi played on the concept of newfound freedoms in figurative and literal ways.
So that meant motifs inspired by Rome, and TikTok adjacent crop tops, and cargo shorts that fell pruriently short of the golden five inch inseam. It's not the stuff of a cramped, sweaty Hackney Wick club. This is the carefree, permasmiling day party – and they're always so much better anyway.
MC
6
Dolce & Gabbana
Somehow, Domenico Dolce and Stefano Gabbana wield the colour black like no other designers. It seems deeper, more dramatic in their hands. No one does colour or print like them, either… but black, I think, is where they excel. Normally, it's in a slickly cut suit or just-perfectly proportioned LBD, but for SS '22 they've dabbled in the romantic. I love this Byronic look, replete with moody jewellery and emo cuffs.
CT
7
Burberry
The Givenchy age of Riccardo Tisci amassed quite the following. It was slightly sporty, somewhat graphic and very sexy – and one wouldn't normally apportion any of those things to Burberry, where Tisci is now creative director. It's one of Britain's oldest and prestigious fashion houses, after all, and it's one built on clean lines and classic heritage.
But the house that Thomas Burberry built in 1856 has proved a natural home for Tisci. Signature outerwear was hacked up and vivisected, resulting in fabric rib cages, bare arms and something that felt decidedly futuristic for a brand steeped in tradition. The Burberry age of Tisci is well underway.
MC
8
Louis Vuitton
Under the expansive eye of Virgil Abloh, Louis Vuitton is moving into stranger, brighter, more psychedelic spaces. Inspired by the shifting vanguard of Black music, the halcyon days (and outfits) of jungle, rave, house and hip hop, here, master sampler Abloh might have riffed on The Sound of Music in Detroit. A bucolic alpine scene given some edge on the canvas of slim and structured tailoring and matching holdall. Then there's a peak at an LV running shoe (and a big Nike collab) that will be guaranteed to cause a scene, or at least a long queue, when it drops. I'm not sure I'm quite advanced enough to pull off the half bandana into ombre teal Cat in the Hat part, though.
FR
9
Prada
Horny, nerdy, near future fisherman: a collection only Mrs Miuccia Prada – and her new co-pilot in Raf Simons – could pull off. Where we've seen stiff shouldered, dark academia structure in previous seasons (which is a daily special for Prada), this release saw the storied Italian marque soften. It was lighter. It was looser.
And the metaphors were clear; as models moved from a blood red box onto a sun soaked beach, this was post-lockdown Prada, a Prada that was primed for a breezier stage of menswear and life with a collection of short, short, shoooort shorts, signature bucket hats and simple but sharp romper suits. Is this Prada 2.0? If so, then I'm hooked (line and sinker).
MC

10
Tod's
For his latest menswear collection for Tod's, creative director Walter Chiapponi took inspiration from the very colour palette of Italy, which is a shrewd move. Lots of dusty, sun kissed shades and summer-beaten textures, and all realised in a collection that oscillates between sportswear, classic menswear and Riviera-wear. The highlight is this quilted jacket (with gatherable flanks), but the belted denim safari shirt underneath isn't too shabby, either.
CT
11
Casablanca
While most brands are staring into the light post-pandemic (if that'll ever happen), Charaf Tajer's Casablanca is retreating further and further into its Liberacean dream. But where previous seasons have seen sportswear with an edge of practicality, this 'aprés sport' of Tajer's is purely fantastical; all the benefits of retro sportswear but without the god awful cardio.
The brand signatures were all there in the graphic jackets, neckerchiefs and silky, silky, silky touches, but this was perhaps Casablanca's most relaxed collection yet – and possibly its best. If this is a dream, I don't want to wake up.
MC
12
Brunello Cucinelli
In recent years Brunello Cucinelli has expanded into a more sport-adjacent space. Some beautiful suede trainers here, some perfectly tailored shorts there. A fancy white sock if you will, sir. For me, though, it's still the suiting that thrills. Close your eyes and feel the cashmere and hundreds of hours of handwork. Here the pinstripe suit is stripped of any cartoonish machismo, replaced by something relaxed and refined. A soft power suit for a modern power broker. If an alien came down and abducted me and said, laser gun pointed to my dome, life flashing before my eyes: "Show me what a suit is, feeble earthling!!!" I'd probably show it this one.
FR
13
Dior
Monsieur Christian Dior liked art. He also liked partnerships. So to continue the maison's traditions, incumbent men's creative director Kim Jones likes to do the same, collaborating with an artist for each collection.
His latest collaborated is perhaps the most culturally significant thus far. For under a banner of Cactus Jack Dior, Jones found a natural teammate in 29-year-old rapper Travis Scott. The man is huge. And the resultant show was equally as impressive with lots of oversized LSD cacti (of course), skinny fits, monogrammed knits, the occasional flare and tailoring so relaxed it was almost horizontal. Mr Dior would be proud.
MC
14
Canali
The bird's eye view of these collections would suggest that by the time summer '22 rolls around, there'll be an overarching mood of easy, loose elegance. Lots of light overshirts, safari jackets, wide, billowy pants, espadrilles and the like. Dickie Greenleaf vibes, maybe. If that comes to pass, Canali will be one of the foremost outfitters.
CT
15
Brioni
Brioni still represents the zenith of classic, luxurious menswear, but over recent seasons we've seen that classicism resonating more and more with the prevailing mood. (Case in point, Brad Pitt in the perfect tux in the Brioni campaign; proof that impeccable tailoring can still make even the hottest look hotter.) The brand's SS22 collection walks the line between smart and casual with incredibly good taste, especially in this incredibly louche double denim look.
CT
16
Ahluwalia
Having swept up a wheelbarrow full of awards and collaborated with Ganni, Mulberry and with Alessandro Michele on Gucci's film festival, Priya Ahluwalia further confirms why her clothes are worth the hype, collabs and accolades. Silk shirt, silk neckerchief, folky tote; socks and printed loafers. So many trends, references and textures could look messy in a less skilled designer's hands, but here it looks warm, romantic, elegant. Fancy holiday clothes and fancy lounging about a shady Tangier studio waiting for inspiration to strike clothes. Lovely.
FR
17
Ermenegildo Zegna
Can I pull off a jumpsuit? It's a question that I've been asking myself for years (only the biggest existential quandaries here at Esquire). I have always leant towards a big emphatic NO, but Zegna has reignited the spark! This baby blue, string-cinched piece is a bit Italian tailoring; a bit western with the pointed collar and chest pockets; a bit 'here to fix your waste disposal luv' with the tool bag. and more than a bit luxury toddler with all that volume and softness. Such is its commitment to craft that Zegna is building a new atelier in Novara, Piedemont, just to put out all the beautiful suits and outerwear that it has coming up. Yeah, yeah, I love all of that, but next summer I want to be the best dressed handyman/baby in Italy.
FR
18
Lanvin
Skin tight graphic co-ords and All Saints' "Pure Shores"? Why not! Following last season's ode to the MTV music videos of yore, (soundtracked by Gwen Stefani's "Rich Girl", of course), Lanvin's Bruno Sialelli continued in the same throwback vein. Though instead of full early Noughties splendour, the creative director spliced the marque's historical prowess with silhouettes and prints with shapes and designs that are genuinely a good bit of fun.
MC
This content is created and maintained by a third party, and imported onto this page to help users provide their email addresses. You may be able to find more information about this and similar content at piano.io
Advertisement – Continue Reading Below